361
« on: May 09, 2012, 03:41:07 PM »
I needed a better antenna for my Yaesu
FT-270R
. My requirements were to find a portable, efficient and easy to build design. The short rubber antenna works fine for me now, especially that I am not transmitting before getting my license. I do want more range however for emergency situations, in case local repeaters are down. My first thought was to make a Yagi-Uda directional antenna. They have a high gain but transmit in only one direction. While this can be an advantage, and I plan on getting one, my go-to antenna needs to be omnidirectional. I found the
Slim Jim
design
to be my best option. It is easily made from soldered copper tubing. All you need is a couple of 5ft lengths of 1/2" tubing, 90deg corners, end caps and PVC Ts. I added an electrical junction box for the feed-point connector, but it might make it more difficult to attach the coax and tune the antenna.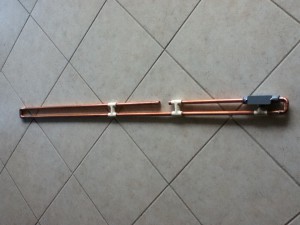 Total length very-top to very-bottom is 58". Width center-to-center is 2". Gap is about 1-3/4". See the Ham-Universe articles (1 & 2) for exact measurements.
It is easy to calculate dimensions for other frequencies:
3/4w : 8415/F-mhz.
1/2w : 5610/F-mhz.
1/4w : 2805/F-mhz.
Feed point : 10-20% of 1/4w.
The gap is taken off the 1/4 wave element...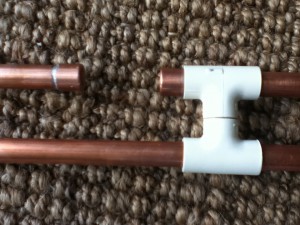 The PVC Ts need to be reamed with a 5/8" drill bit so that the copper tubing can go through. I used a bit of WD40 to slide them down. Between the two Ts, I epoxied a 1" piece of 1/2" plastic tubing. There is one "H" PVC support assembly on the top portion and one on the lower portion, right next to the end cap.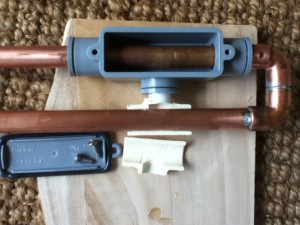 I am not sure that using a plastic electrical junction box was a good idea for the feed point. Since I have not received my SO-239 socket yet, I must hold off on the electrical connection. My concern is that soldering will be difficult without burning the plastic box. I might have to use sheet-metal screws. Tunig might not be easy either, since the best SWR is obtained by moving the feed point up and down, between 3 and 4" from the very-bottom. Maybe I should have used PVC Ts, like for the two support "H" assemblies. They can be split in half, then the coax soldered after finding the best feed point. Once epoxied, it would look fine. I do like the look of my electrical box though, and if it works fine, I will be happy with the results.
Total building time was about an hour. Everything came from the hardware store, except the SO-239 connector. Soldering turned out to be pretty easy. I sanded the parts and used flux paste before heating up the assembled parts with a torch. Once the parts are hot enough, you put the solder on, which flows in the joint, following the flux. Cost could have been as low as $30, but I spent about twice that much, not counting tools (hacksaw, drill bit, epoxy, solder), which you might have already. If you are starting "empty handed," plan on $100. While it can cost more than a factory-made antenna, you get the satisfaction of building something yourself, which might be actually sturdier than a store-bought model.
Stay tuned for the finishing touches (painting), electrical connection and reception testing.
Thanks to Richard KE5FXU SK at hamuniverse.com for the article!
Update, April 11th:
Finally, I got my SO-239 plug. Drilling the PVC box was easy. I didn't even use my drill press. It only took me a few minutes by hand! Holes are one 5/8" in the middle, and four 1/8" around. I drilled in the middle of the lid, hoping I would have enough leeway to adjust the SWR by moving the contact in the box along the tube. First, as I suspected, I could not get the tube hot enough to solder the center of the coax to the copper tube using my 30w soldering iron. I solved the problem by heating up the tube with a Zippo under it while I soldered on top! It worked really well. I did the same to put soldering points in the box, every quarter inch or so. The zippo was placed an inch from the box. I was worried about melting it, but these electrical boxes are pretty heat-resistant. Sorry about picture quality: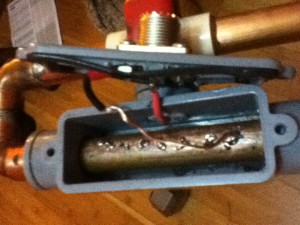 It's a bit ugly, but inside the box anyway..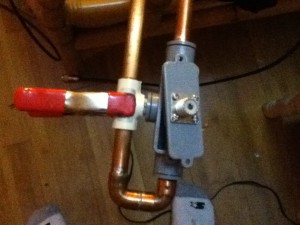 Reception works great. I was able to listen to a conversation tonight on a distant repeater that I simply could not hear with the HT rubber antenna. I get three extra signal bars with the Slim Jim. I got a cheap VHF/UHF digital SWR meter from Hong-Kong, which seems to work fine, but for the connectors which are of "N" type.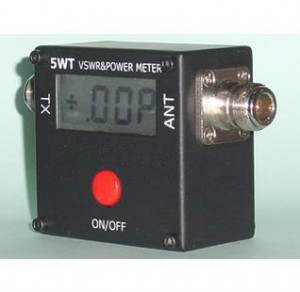 Update, May 1st:
I painted the antenna sort of a flat olive-drab color for stealth. I can easily hoist it up a tree and it blends in very well. SWR varies from 2.4:1 on the lower part of the band, to 1.8:1 around 146Mhz, and remains around 1.4:1-1.5:1 from 146.5 up. I used a ferrite RF choke kit from Palomar Engineers (photo below), which got the SWR down to 1.36:1 around 147.5Mhz. I much prefer the ferrite choke to the coax balun type, which looks ugly and wastes cable.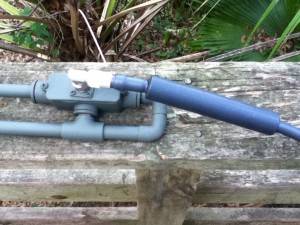 What I like the most about the Slim Jim is it's sturdiness and that given it's shape, you can hang it from anywhere, as long as you use an isolator to do so. When hanging it, I plug in an "L" shaped adaptor (photo above) to avoid bending the coax.
Update Oct 30, 2012:
I have been using the antenna with my Icom IC-271A and it works great, even with the antenna set on the corner of my desk! I do plan on putting it outside on a pole or hoisted in a tree, but haven't had the time. I can hit distant repeaters on half-power (13W) with no problem and get good reports. What I like most about it is that I can take it with me anywhere and not worry about banging it or damaging it. It is easy to hoist up with a string or tape it to a pole. The SWR can probably be reduced by doing a better job at finding the sweet spot to attach the coax. It doesn't even look like an antenna to the untrained eye, which is always a plus.