OK, so apparently I've developed a fetish for building stuff. With the HF station in a box 95% complete I got to thinking about what to power it by when off the grid.

The build blog for this and any other projects I can think of will be here:

http://kf5rhi.blogspot.com/ (http://kf5rhi.blogspot.com/)

I'll also post pics and videos here; but the most up to date stuff will be at the link above.

Feel free to offer and advice and/or criticisms.

Be gentle! ;)
Good looking set up, looking forward to seeing it finished.

Thanks! I'm hoping to have all the components by the weekend! :)
Suggestion: put a current shunt in it so the volt meter can also read battery current (charging or discharging) and use a 3-position switch on the volt meter: off/volts/amps
If there's room, how about adding an automotive cigarette lighter socket, then a cigarette lighter USB charger?
Hmm...very good ideas, Bob! Thanks!
Quote from: RichardSinFWTX on August 14, 2014, 08:52:46 AM
Hmm...very good ideas, Bob! Thanks!

Please keep us posted on this build cause i'm pretty sure i am going to copy it.
Roger that!
I would also add a DC LED light strip. Very bright and use very low power.
Just out of curiosity, whyyyyyyy? :)
Quote from: RichardSinFWTX on August 14, 2014, 10:27:09 AM
Just out of curiosity, whyyyyyyy? :)

In case you needs lights. I operate portable at night and a little light helps.
Since this thing is experiencing feature-creep, add some picatinny rails. You'll have unlimited accessory options ;D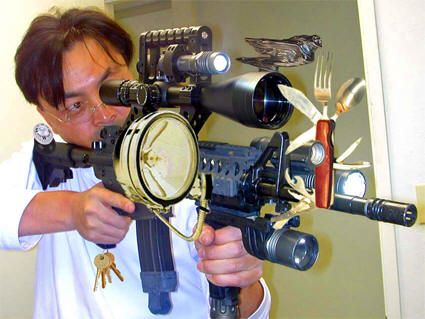 Was already figuring Picatinny rails and a laser!! :)
No emergency power station is complete without ---
... an electric Martini shaker.
de RadioRay ..._ ._
...that and a margarita machine! :)
The last of the parts came in yesterday (volt meter) so it looks like barring any Honey-Do's this weekend I'll be able to at least start on my battery box.

Once that's done I'll finally be able to test out the foldable solar panel and charge controller I bought months ago in preparation! ::)


I got an extra day off yesterday thanks to an air conditioner meltdown so I was able to finish up the battery box.

Watch my video here (if you want): http://youtu.be/gOVuQqO1j1M?list=UUgoBcwyiySiF0BcglCVx4Tg

It didn't all go according to plan. I ended up having to remove one of the batteries to free up enough space to not put too much stress on the wires coming off the PowerPole connections at the front and back of the box. Oh well, it still works like I intended.


Looks nice, with neat work! I'm a little dissapointed there's no accessory rail or cup holder.
Those are for version 2.0! :)
So now you have a 30 Ah Battery Box. Still nice!
It came out great Richard !!!! Nice clean build.
Thanks, Joe. It's not perfect; but it works! :)


Sent from my iPhone using Tapatalk
So, whatcha gonna power with it? 30Ah would power my FT-857 for about 36hrs of Rx and I'm guessing half that if I throw in intermittent chatting at 20W. That's a whole lot of operating in a small box.
Also, since you've got spare room in the box you may be able to fit one of those battery boosters that puts out a constant 13.8V even when the batteries sag a little.
You hit the nail in the head! It's intended to power my FT-857.

What are the battery boosters you're talking about, Bob?

Eventually I may build a second one of these; but it might be a while.


Sent from my iPhone using Tapatalk
They are basically a step-up DC/DC power supply. Your rig sees 13.8V regardless of the battery's voltage. Here's a short article (http://www.ad5x.com/images/Presentations/BatteryBoosterPR.pdf)on them. There are several 20A output ones intended to drive 100W rigs. Personally, I want one about half that power since if I'm on batteries I'm cranking the power down below 50W to conserve power. I haven't hunted around for a lower power one so I don't know if they exist.
Thanks for the info, Bob. I'll check it out.

Edit: Wow! Those things sure aren't cheap! I might have to save up my lunch money a little while to get one.
I just went to Northern Tool & Equipment and picked up another one of those utility boxes. I think I'm going to build a second 30Ah battery box. That will give me a total of 60Ah when I daisy-chain the two together.

I've got the chassis mount PowerPoles and the LED voltmeter already ordered. Just gotta go by Radio Shack (while they are still open) and pick up a toggle switch.
Yeah, this system and the battery power supplies aren't intended to be humped around in my rucksack. I am looking down the road to doing something with Lithium Ion batteries. I also have a foldable solar panel and a charge controller. That's the next thing on my To-Do list before Field Day, to get the solar panel and charge controller in place.

When I'm not using the radio it stays locked up in it's case disconnected from everything. I run it mostly from grid power; but I do run it from time to time from my battery pack(s).

The lid of these boxes does have a silicone O-ring inside. I have tested them for water-tight integrity. The problem arises though when I cut the holes for the chassis mounted PowerPole blocks. Those aren't watertight in the least, plus I'm wondering about how they would fair EMP-wise? Granted there are no delicate circuits inside so it may be much ado about nothing. I was hoping that PowerWerx made some sort of boot to go over them; but I haven't found one yet.

Thanks for the compliments on the backpack portable FT-8900R. that was my first attempt and home-brewing anything. It came out much better than I thought it would. The bracket that the radio is mounted to can be removed so I could in theory put the FT-857D in it's place if I chose to do so.



I started work on the second of my 30-Ah battery boxes today.
There are notches on the top of the lid the line up with holes on the bottom allowing them to be easily stackable. The PowerPole connections on the back are such that I can daisy chain two of them together for 60-Ah of juice.
I'm planning to test everything at Field Day this August.
Cool, nice work.